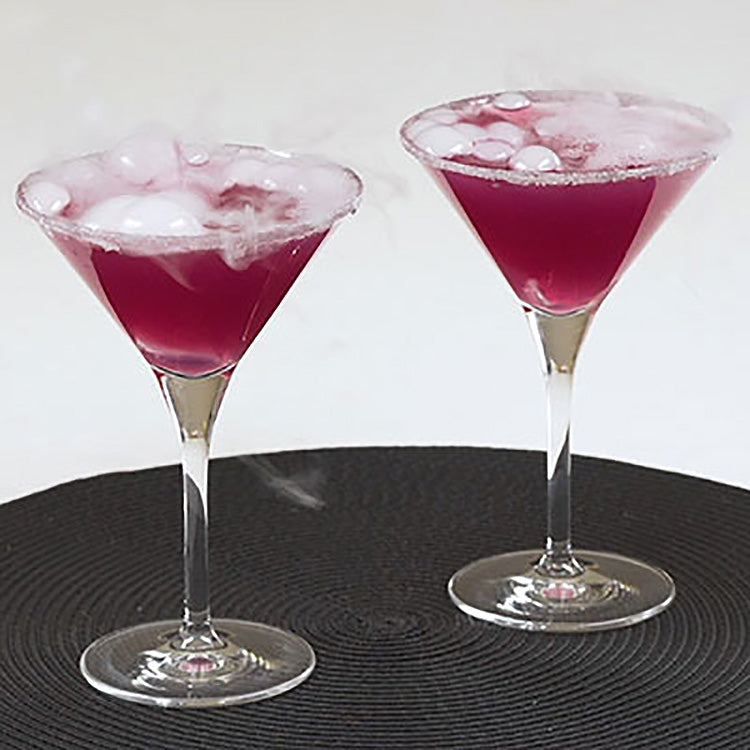 Frothy bubbles and spooky smoke make this Halloween tea cocktail a berry delicious treat!
Serves 2 (8 oz. servings)
Ingredients:
4 Mighty Leaf Wild Berry Hibiscus tea bags
8 oz (1 cup) boiling fresh drawn filtered water
4 oz (1/2 cup) pineapple juice
2 oz (1/4 cup) Vodka 1 lemon, juiced
1 tsp superfine sugar Ice Dry Ice* Purple Sugar (Can be made ahead of time by shaking superfine sugar with red and blue food coloring)
Directions:
1. Steep tea bags in 8 oz 212°F water for 6 minutes
2. Prepare 2 martini glasses: Run a lemon wedge along the rim of the glass, then dip the rim in a bowl of purple sugar
3. Fill a cocktail shaker with ice and pour in the Wild Berry Hibiscus, Vodka, Pineapple Juice, lemon juice & tsp of superfine sugar
4. Carefully break up the dry ice and place 1 or 2 small pieces in each glass
5. Pour the cocktail mixture over the dry ice & watch the brew bubble and smoke! *Note: Please take extra care when handling dry ice to not touch it directly. We recommend using tongs or a spoon to handle, and placing it between dish towels when breaking it apart so as to avoid direct contact with skin or fragile surfaces.