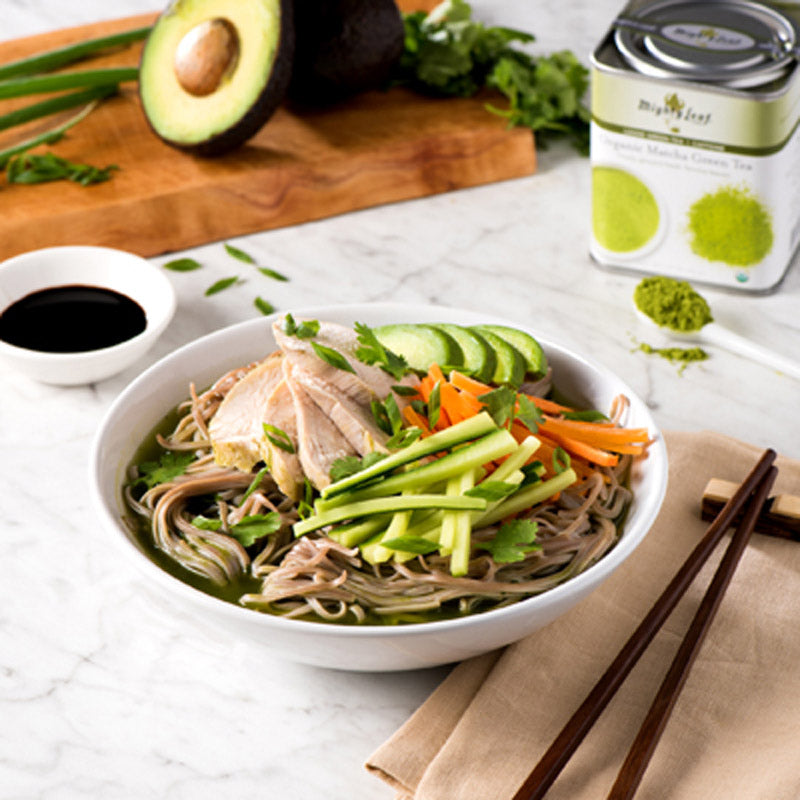 Prep Time: 15 minutes
Cook Time: 15 minutes
Serves: 4

Ingredients:
3 cups (750 mL) sodium-reduced chicken broth
4 tsp (20 mL) Mighty Leaf Matcha Green Tea Powder
1 onion, quartered
1 piece fresh gingerroot (1 inch/2.5 cm), peeled and sliced
2 cloves garlic, crushed
1 tsp (5 mL) wasabi paste
1/2 tsp (2 mL) salt
2 boneless skinless chicken breasts (6 oz/175 g each)
8 oz (250 g) soba noodles
1 carrot, peeled and sliced into matchsticks
1/4 English cucumber, sliced into matchsticks
1 ripe avocado, peeled, pitted and thinly sliced
2 green onions, sliced
1/4 cup (60 mL) fresh cilantro leaves
Soy sauce

Preparation:
In saucepan, bring chicken broth to boil. Add matcha powder, onion, ginger, garlic, wasabi paste and salt.

Add chicken; simmer for 10 to 12 minutes or until chicken is cooked through and internal temperature reaches 165°F (74°C). Remove chicken; let stand for 5 minutes and slice. Strain poaching liquid and keep hot.

Meanwhile, cook soba noodles according to package directions; drain. Divide noodles between 4 bowls. Top with sliced chicken. Ladle hot broth into bowls; top with carrots, cucumber, avocado, green onions and cilantro. Serve with soy sauce.